I have a Robinson XCR that has become quite the safe queen. It's a fantastic rifle but I'm wanting to hunt this year with an M1A so before I can buy one the wife says I must sell one.
Right now the rifle has GG&G flip up sights, Magpul rail covers, and a SureFire M900 light on it. For the rifle alone without all that I'll take $1400. If you want the sights, SureFire light, and the rails I'll sell it for $1850. I've shot steel cased ammo and bass through this rifle and it has never jammed.
From Robinson Arms' sight:
Reliability
Designed specifically for the most demanding military, law enforcement, and recreational users, the XCR-L offers a level of reliability offered by few other rifles.
XCR-L incorporates heavy duty components such as a sturdy oprod, a beefy three-lug bolt, a locking extractor, and a fixed ejector. These elements and others ensure reliable performance with minimal maintenance.
Ergonomics
The XCR-L is the most ergonomic rifle available anywhere. Professoinal users report that the XCR has the fastest magazine change and clearing times of any rifle.
Whether the rifle is supported by the right or left hand, the operator can manipulate all the controls while keeping his eyes on target and index finger near the trigger.
Our new Fully Adjustable Stock not only folds but is adjustable for length and height ensuring unparalleled shooting comfort.
Configurable
Many rifles claim to be modular weapon systems just because they have a 1913 standard rail system used to attach accessories. The XCR-L is truly modular.
With one XCR-L Lower Receiver (the serialized part), the operator can configure the XCR as a shorty for close quarters combat, a light weight carbine, or a longer marksman's rifle.
The XCR-L's quick change barrel system is unmatched in terms of ease of use and repeatability. Barrel and caliber changes can be made in less than 5 minutes.
Simple
Armorers who are familiar with the XCR-L find it the easiest rifle to inspect, maintain, and service resulting in lower overall maintenance costs
The true beauty of the XCR-L is the simplicity of design and durability of its parts.
This is the basic rifle without my add ons: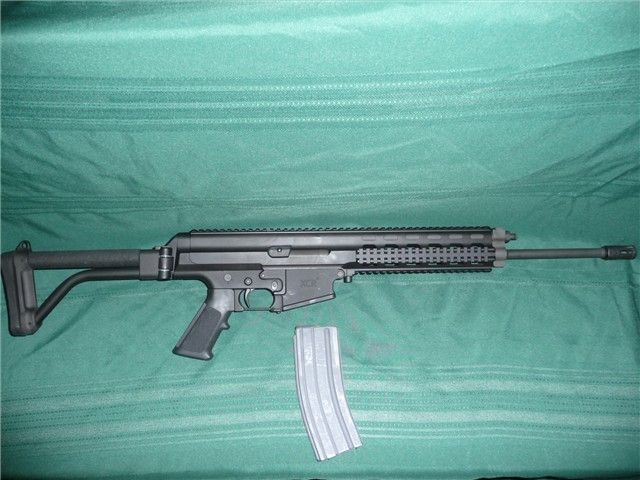 As I said I will sell the rifle for the prices mentioned above of if you have an M1A I will trade for that. I will try to snap more pictures of the rifle tonight.
Edit to add: