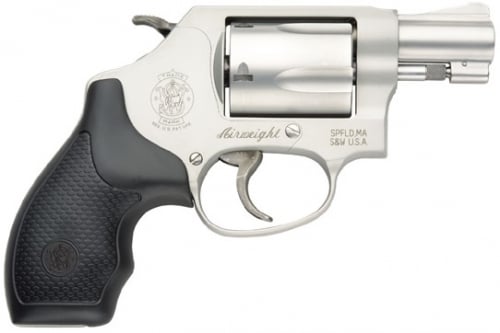 Like new condition! Purchased for $400 in January 2017 at Buds Gun Shop and have only fired 20 rounds through it. Have an OWB DeSantis leather holster that I will include. Great EDC firearm. Only reason I am selling is for financial reasons I need to reduce my inventory.
CHL/LTC only please. Pick up at my place of work only in Hudson Oaks/Weatherford Tuesday - Saturday 9:00am - 6:00pm.
More details copy and pasted as follows:
The Smith & Wesson J-Frame has become the most popular small frame personal defense revolver on the market. With decades of reliable performance to its credit, the J-frame line offers models capable of firing .22 LR, .22 Magnum®, .38 S&W Special and the more powerful .357 Magnum® loads. Smith & Wesson offers these revolvers from our production, M&P, Pro Series, and Classics lines in three diverse hammer designs; internal, exposed and shrouded.
The Model 637 is a variation of the Model 37 Chiefs Special Airweight® that integrates the time-tested features of the original with modern advancements. This ultra-light revolver is a favorite back-up and concealed carry firearm.
Features:
Lightweight alloy frame for easy carry
Stainless steel barrel and cylinder
External hammer
Rated for continuous +P Use