http://www.gunplay.us/Anouncements/Wome ... Clinic.htm

On May 1, 2010 the Terrell Rifle & Pistol Club will sponsor an

NRA Women On Target

clinic. Any woman age 21+ who can legally possess a handgun may attend. We will provide the necessary equipment. You may bring your handgun and ammunition if you choose. If you plan to do so please read this

link

.

The hours are 9:30 am - 3:00 pm.

Admission is $25.00 per person. Lunch will be provided.

If you'd like to ...

Learn how to safely handle a pistol or revolver

Learn about safe storage options for your home

Learn about modern or historic firearms

Learn in the company of other women

Learn in a safe, friendly environment

Learn about competitive shooting and hunting basics

... then Women On Target® is right for you!

For additional information or to enroll in this event please contact the Clinic Director, Sue Franks at 903-356-3000 or

sivfran@yahoo.com

.
There is a map included in the information link above, but I thought I'd add this too. If you're coming from Terrell: Take 429 North - it is about one mile east of the Hwy 80 & Hwy 34 intersection. It's easy to miss if you're not looking for it.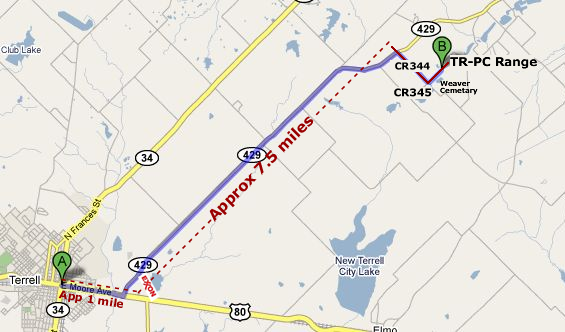 The organizer says "it is for women only; men can drop off their ladies (and yes, they do have to come back and get them)..."