We headed up to our MLD III ranch this past Friday. We had a great dinner with the other members, and we were in the blind well before sunrise Saturday morning.
Just after 7:00 AM, this bad boy walked out. I spent a minute looking it over through the binoculars, then gave my son the go ahead to shoot. Here's what he harvested: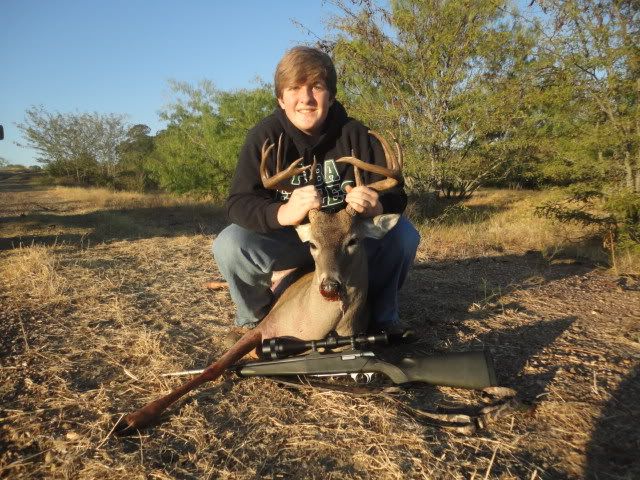 11 points, 14" wide, 165 lbs, 4.5 year old with a gross score of 129. Taken with a Browning A-Bolt .270 WSM, using a 150 grain Winchester Ballistic Silvertip.
Not bad for a first buck.
I love the chocolate color of his tines, which normally see more in Freestone county than Navarro where we are, so we're excited! And, the 6" brow tines are really
cool. This is an above average for our low fence ranch.
One of the members asked my son to recount the story. My son told a story "um, about 104 yards out, no wind". The member said "no, it's like this: 350 yards, uphill, in a hurricane". By nightfall
my son had added "...with a water pistol" to the end of his new story!!
Now, he'll never look at anything less the same....
Hope y'all enjoy the photo.