Moderator: carlson1

Topic author

RoyGBiv

Senior Member
Posts in topic: 2
Posts: 8153
Joined: Wed Jan 05, 2011 11:41 am
Location: Fort Worth
Anyone ever used or seen one of these IRL? Not me... Just this GIF.
Pretty awesome.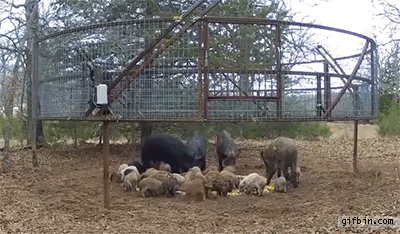 ---
Senior Member
Posts in topic: 1
Posts: 812
Joined: Mon Sep 18, 2017 5:11 am
Location: Frisco, Texas
Bring on the smoker Baby......
Mike
Owner of Tejas Products "Manufacturer of firearm related accessories and custom laser engraving.
NRA Pistol Instructor
Range Safety Officer
WWW.TEJASPRODUCTS.COM
---
Senior Member
Posts in topic: 1
Posts: 2624
Joined: Wed Mar 09, 2016 7:00 pm
Location: Plano, TX
Deplorable lunatic since 2016
---
Senior Member
Posts in topic: 1
Posts: 3927
Joined: Sat Jun 14, 2014 1:21 pm
Location: Elgin, Texas
Contact:
I missed that it was hog with only 1 "g". I was expecting something else.
O. Lee James, III Captain, US Army (Retired 2012), Honorable Order of St. Barbara
2/19FA, 1st Cavalry Division 73-78; 56FA BDE (Pershing) 78-81
NRA Distinguished Life Member (Disabled Vet), TSRA, NAR L1
---
Senior Member
Posts in topic: 1
Posts: 7507
Joined: Fri Apr 01, 2005 9:16 am
Location: La Grange, Texas
I would like to have one of those but they are a bit pricey.
"The Second Amendment is absolute...If we refuse infringement to our Right to Keep and Bear Arms, as protected by the Second Amendment, we will never be burdened by tyranny, dictatorship, or subjugation - other than to bury those who attempt it. B.E.Wood
---
Too bad that Hogg can't keep his filthy trap shut.
sent to you from my safe space in the hill country
---

Topic author

RoyGBiv

Senior Member
Posts in topic: 2
Posts: 8153
Joined: Wed Jan 05, 2011 11:41 am
Location: Fort Worth
Apologies. Friday fogginess.
I was drooling at the prospects.
---
I wonder how difficult it would be to make one of those traps. Looks like it works great.
.. tyrants accomplish their purposes ...by disarming the people, and making it an offense to keep arms. - Supreme Court Justice Joseph Story, 1840
---
We have worked with the DNR on our property in Missouri and set them up. A friend and neighbor of our property who farms about 5000 acres has a major issue with them on his land and they have had 2-3 at a time set up. The hogs are smart enough after they see it happen once or twice they won't go near a trap.
Keith
Texas LTC Instructor, Missouri CCW Instructor, NRA Certified Pistol, Rifle, Shotgun Instructor and RSO, NRA Life Member

Psalm 82:3-4
---